A few weeks ago we had dinner with some good friends, Nate & Amanda (that we don't see often enough).  Amanda loves discovering new foods was telling me about one of her favorite food blogs, called My New Roots.  She loves the Chocolate buckwheat granola recipe and said that I had to try it.
So of course the next day I decided that I had to make it…Problem, I had no whole buckwheat and no hazelnuts (two key ingredients).  But I did have Gluten free oats, coconut and chia seeds, so I decided to take the basic recipe idea and make my own variation.  I am certain that the flavor profile is pretty different than the original (especially since buckwheat has a pretty strong nutty flavor), but that being said…I love how the original recipe can be easily altered with ingredients that you have on hand and still taste fantastic.  This granola make the perfect snack, especially if you wanted something just a little sweet.  We also served in on top of our favorite local yogurt from Traderspoint Creamery.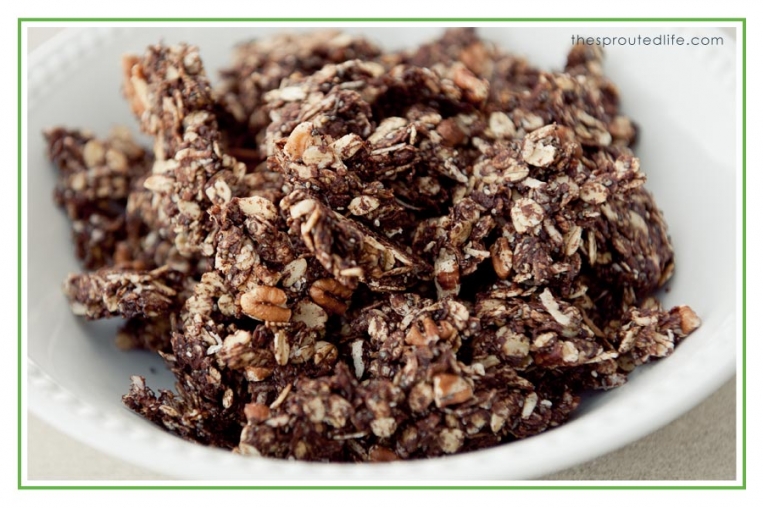 Literally, every item is this recipe I keep on hand at all times in my pantry… except the coconut sugar.  Which ironically, I had just picked up a bag at our local Earth Fare because it was on sale and I wanted to try cooking with it. I love the combination of coconut sugar and maple sugar.  It is probably one of my favorite sweetener combinations in baking/cooking.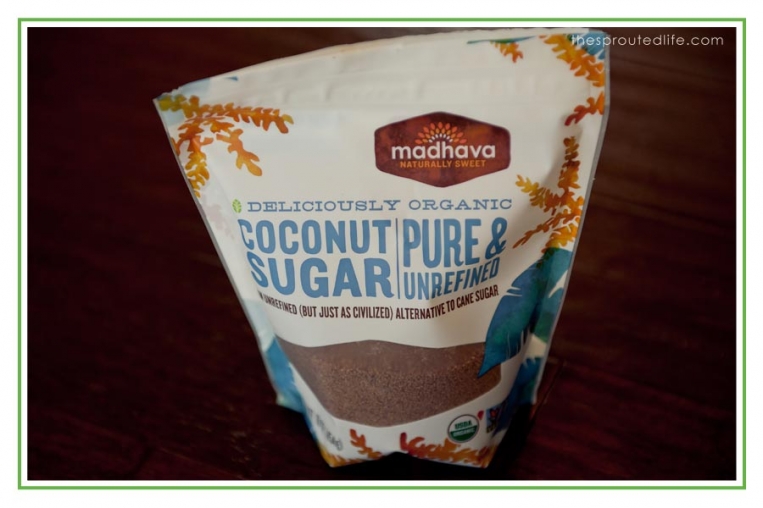 Gluten-Free Chocolate Granola
author:
The Sprouted Life (inspired by and adapted from My New Roots)
Ingredients
3 cups gluten-free rolled oats (I use Bod Red Mill's)
2 cups shredded coconut (flakes work also)
1 cup chopped pecans
⅓ cup chia seeds
⅓ cup ground flax seed
pinch of sea salt
½ cup organic cocoa powder
⅓ cup coconut oil
⅓ cup maple syrup
¼ cup coconut sugar
1 tsp vanilla
Instructions
Preheat oven to 325
Combine the rolled oats, pecans, shredded coconut, chia seeds, flax seeds and sea salt in a large bowl.
In a saucepan over low to medium heat add the coconut oil, maple syrup, coconut sugar, cocoa powder and vanilla. Whisk until liquid mixture is smooth.
Pour the chocolate mixture into the dry ingredients and fold them together until well coated.
Spread the granola mixture onto a cookie sheet lined with parchment paper and press firmly to stick granola together.
Bake for about 30 minutes, stirring every 5-10 mins until everything is lightly toasted.