RESTORE YOUR GUT & THRIVE
An 8 – Week Transformational Online Coaching Program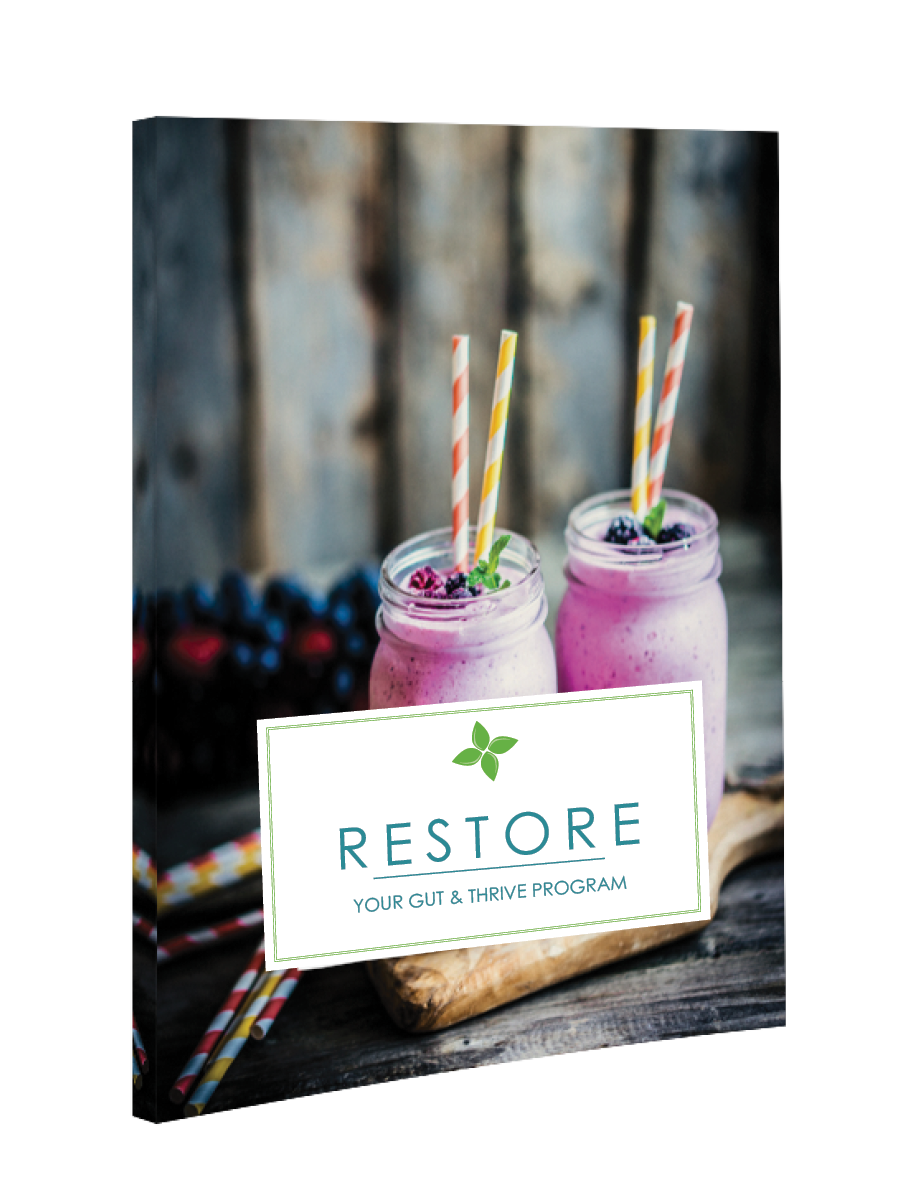 I know you're probably thinking:
There is no way that all of my symptoms can be chalked up to poor gut health…
Short answer:  Maybe not.
Long answer: But it's a really good start, especially when you consider these truths
70 million people suffer from digestive issues.[1]
An estimated 15 million Americans have food allergies…whether they realize it or not (and most don't).[2]
Your gut health makes up 70% of your immune system; therefore, if your immune system is chronically compromised, it's likely due to poor gut health.
You gut is referred to as your body's second brain—if that's not enough to convince you of its importance, I don't know what is.
Poor gut health causes autoimmune diseases, hormonal imbalance, mental illness, diabetes, weight gain, skin issues and countless other problematic conditions.
Once you rebuild the health of your gut, you'll look and feel like a brand new person.
THE 8 WEEK RESTORE YOUR GUT & THRIVE PROGRAM
It's time to get your energy, your gut, your body, and your life back.
So take the first step.
Start feeling your best today. Glow from the inside out.
Feel outstanding no matter how busy your life is, because you deserve to feel incredible with every breath.
8 – Week Heal Your Gut & Thrive Program
8 Week Program that includes 6 weeks of group coaching + 2 one on one coaching calls + full program material
EARLY BIRD SPECIAL – SAVE $100
(Early Bird Sign Up Ends February, 14)
Next Group Starts Monday, March 12, 2018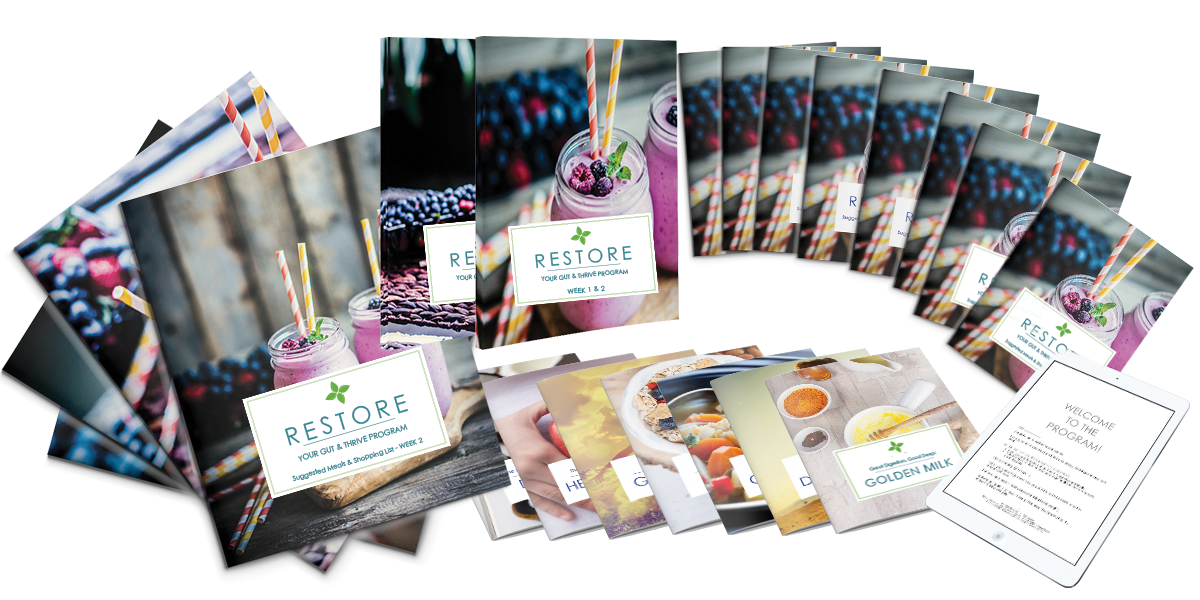 Here's a peek at what's inside this program:
6 – Weekly online group coaching calls (Next 2018 group meets virtually on Monday evenings at 8:30 pm/EST) – Additional times will be added as groups fill up.
2 – One on one coaching calls (20 minutes) at week 4 & 8 of the program
4 – Bi-weekly, jam-packed eBooks overflowing with every piece of information you need to get the results your body craves—think of it as the ultimate go-to resource guide for your gut!
A Recipe Guide packed with delicious food and drink recipes to keep you nourished, satisfied and toxin-free!
Email support from yours truly—I'm here to make sure you succeed!
Handouts with simple reminders for your gut health journey
A Food Diary so that you can reflect on how your meals make you feel and unleash your maximum potential!

Frequently Asked Questions
I DON'T EAT GLUTEN OR DAIRY. IS THIS RIGHT FOR ME?
None of the recipes have gluten or dairy. We do talk about cultured foods such as Kefir but also give options for those who cannot tolerate dairy. There is no gluten in this program.
WILL I BE HUNGRY?
Not at all! There are recipes for breakfast, lunch, and dinner, and there is room for snacks in between. Every meal is delicious and created by a fabulous chef to nourish your body from the inside out. This program is not about starvation or deprivation, and we are not counting calories or dwelling on carbs. You will feel satisfied with every bite. If you do get hungry, there are extra snack recipes included!
CAN I STILL WORKOUT DURING THE PROGRAM?
Please workout during the program! If you feel tired or have low energy, exercising restores both strength and energy. During this program, you will be eating protein and drinking plenty of liquids, so if you're already exercising, there's no reason to stop! It is important to remember that whenever you change the foods you eat your body changes as well. Please consult with your doctor if you have any specific concerns about your health. !
DO I HAVE TO TAKE SUPPLEMENTS, PILLS, AND POWDERS?
Not in this program! This program is based on nourishing your body with whole foods.  We will talk about the benefits of probiotics and provide some research on other commonly used supplements, but this is not a program that prescribes supplements.  Please consult with your doctor regarding any supplements and do not make any changes to your current medications without consulting your doctor.
WILL I FEEL WEAK OR TIRED DURING THE PROGRAM? ARE THERE ANY SIDE EFFECTS?
Some people go through this program and feel nothing but energized, while others may feel tired or light-headed as their bodies eliminate and let go of unnecessary toxins. The experience will differ from one person to the next, but this program is designed with that in mind, and you'll have access to all the tools you need to keep any unwanted symptoms at bay. This program is completely flexible for figuring out what works for YOU!
I HAVE A KNOWN MEDICAL CONDITION. IS THIS STILL SAFE FOR ME?
While this program is based on eating only whole foods, it is still advised that you consult your physician before beginning this or any program.
Note: It is important to consult your physician before beginning any new eating or exercise program. This is a clean eating program designed to teach you the difference between foods that inflame you and foods that fuel you. These statements have not been evaluated by the Food and Drug Administration. This is not intended to diagnose, treat, cure, or prevent any disease.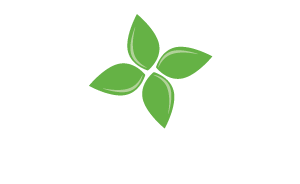 MEDICAL DISCLAIMER
A Functional Medicine Health Coach is not a doctor or a licensed medical practitioner and does not diagnose conditions, prescribe medications or recommend higher or lower doses of your current medications. Consult Your Physician or Health Care Provider. The Sprouted Life claims no responsibility to any person or entity for any liability, loss, or damage caused or alleged to be caused directly or indirectly as a result of the use, application, or interpretation of the information presented, suggested or recommended here at The Sprouted Life.
AFFILIATE DISCLOSURE
Some of the links on The Sprouted Life are affiliate links. This means that if you click on the link and buy certain items, we will receive a small commission from the company. The price is the same for you, though! Thank you for your support. If we post an affiliate link to a product, it is something that we personally use, support and/or would recommend, even without an affiliate link.  We sometimes review items that are sent to us for free. All of The Sprouted Life's opinions regarding them are our own. We only endorse products that are in alignment with our ideals and that we believe would be of value to our readers.