Pizza is a favorite to almost all kids.  Our family loves pizza night, but being a completely gluten-free family, homemade pizza is both expensive and a little time consuming (and pre-made gluten free pizza…well, many resemble cardboard). So one of our favorite variations are zucchini pizza boats.  These are quick, lighter than regular pizza and much more budget friendly.  There are a million combinations of ingredients you can use for the toppings, but this recipe is my kids favorite and a much quicker option because you are using pepperoni and not having to prep any other meats.
Our basic ones we make are literally 4 ingredients: zucchini or yellow squash, pizza sauce, uncured pepperoni and mozzarella cheese. These are a great option for kids lunches, they are quick and easy and a much healthier alternative to regular pizza.
The trick to bulking up the filling is to use the inside of the zucchini that you carve out.  I carve out my zucchini to less than an 1/4 inch thickness and then chop all the insides into small cubes, mix with pizza sauce and small diced pepperoni (or meat of choice) and then refill into the zucchini.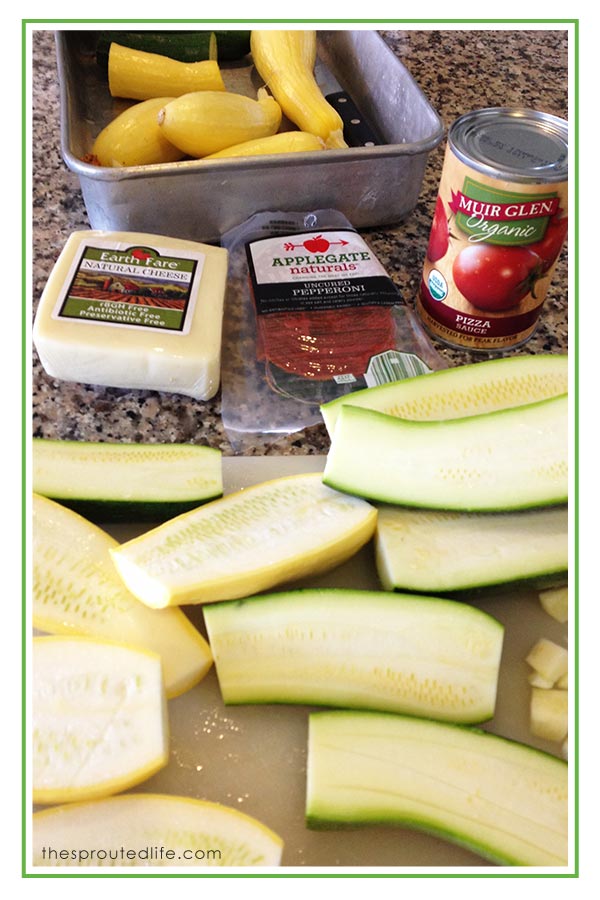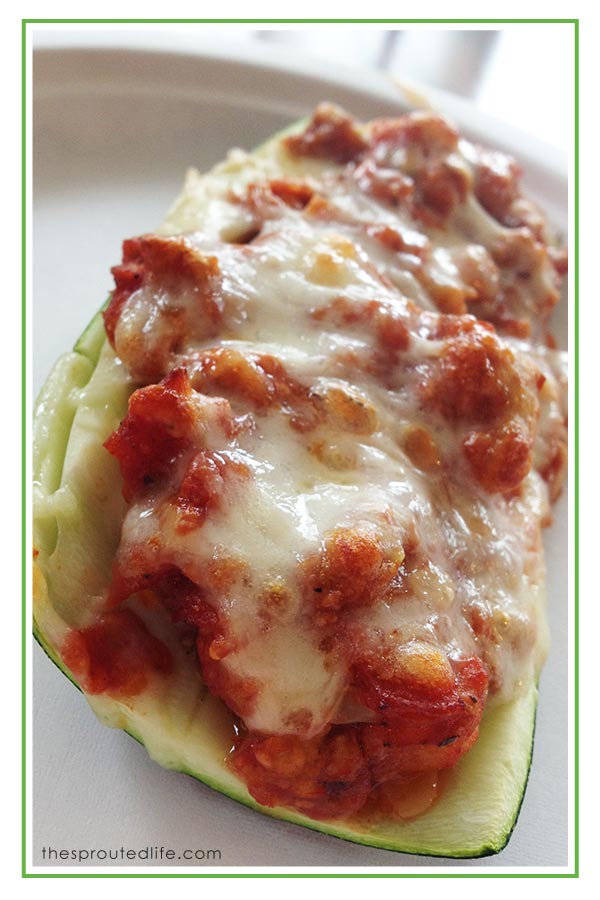 A Favorite Quick Lunch - Zucchini Pizza Boats (gluten-free)
Author:
The Sprouted Life
Prep time:
Cook time:
Total time:
Ingredients
5 medium zucchini or yellow squash
1 can of organic pizza sauce (Muir Glen is our favorite)
1 package of uncured pepperoni (Applegate farms is our favorite)
8 oz mozzarella cheese
Instructions
Chop zucchini in half and trim of both ends.
With a knife carve out the inside of the zucchini leaving less than about a ¼ inch thickness all the way around.
Remove insides of each zucchini and dice into small cubes and set aside in a bowl.
Chop pepperoni into small pieces and add into bowl of zucchini.
Mix in can of pizza sauce.
Spread each boat onto a cookie sheet and fill with mixed toppings and then top with mozzarella.
Bake for approximately 20 minutes at 375 degrees until cheese is melted and starting to brown.
Enjoy!