it's moving week in our house!  it feels like we have been prepping to move forever.  we are temporarily moving into a basement apartment (8-12 weeks) so most of our stuff has to go into storage…which has made packing a little more challenging.  needless to say, this week will be full of simple quick meals!  i am still trying to eat down our pantry & freezer and every ingredient in this dish i had on hand.  (the onions and yellow squash were from our CSA share last week).
we don't eat a ton of gluten free grains, but the four main ones that we still incorporate into meals are rice, corn, quinoa and some gf rolled oats.  one thing i am pretty strict on is what i cook my rice and quinoa in.  i very rarely just cook it in water, but instead always try to use homemade bone broth (i freeze it in big batches).  i could write a huge long post on the benefits and nutrients packed into bone broth (and after this move, i will).  i drink a big mug of it everyday, but getting it into my kids is fairly challenging.  i have found that cooking grains and other dishes in it, is a fool proof way to get some broth into my family's diet. here is my quick: beef, rice and yellow squash skillet dish!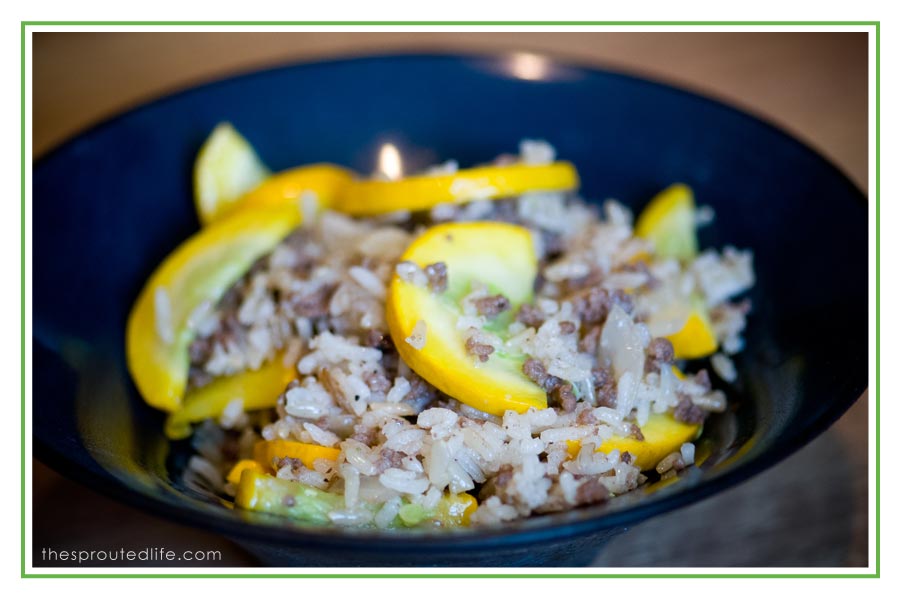 beef, rice & yellow squash skillet dish
Author:
the sprouted life
Ingredients
2 cups bone broth (i used beef)
1 ½ cups brown rice
1 lb. grass-fed beef
2 Tbsp. coconut or olive oil
½ yellow onion (diced finely)
3 garlic cloves
3 yellow squash
salt & pepper to taste
Instructions
cook rice in bone broth (i use a rice steamer, but can easily be done on stovetop)
in a skillet, sauté diced onion & crushed garlic in 1 T. coconut oil.
when onion becomes translucent, add in beef and cook until brown.
toss in sliced yellow squash and cook down for 2-3 minutes on medium heat.
when squash becomes slightly soft add in the cooked rice, remaining coconut or olive oil.
mix together well and add in salt & pepper to desired flavor
serve!