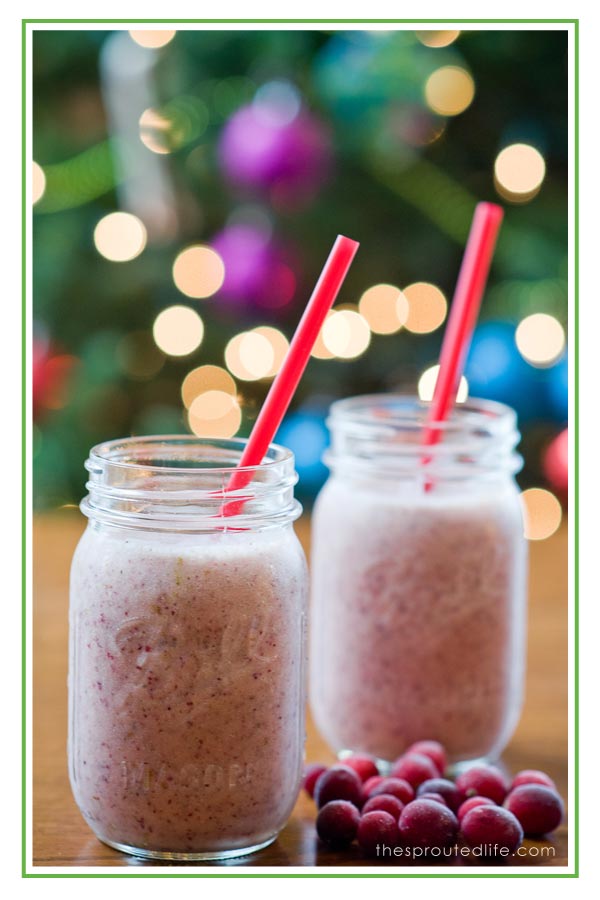 I have never really been someone who runs out and buys cranberries for Thanksgiving.  I don't mind them, but I don't have many recipes that I typically use them in.  The last few weeks, every time I have walked into our local Earth Fare, I am greeted by a big tub of "scoop your own" cranberries.  They are bright, fresh and just look cheerful, so I bought a bag (which ended up being a lot), because my almost 4-year old helped scoop them.
I was then left trying to find creative uses for fresh cranberries, so I decided to test out a smoothie.  The only sweetener in it, is from the bananas and the orange juice, so it makes a crisp tart tasting smoothie that became a family hit and is perfect for the Thanksgiving holiday.  Seriously, my 17 month old, downed his smoothie faster than any smoothie I have ever made for him.
I used full fat coconut milk (Native Forest is our favorite) and added chia seeds to give it a boost of fats and make it super filling. I love the addition of vanilla to this smoothie, as it give the cranberries and orange an extra pop.  Definitely will become a regular in our favorite smoothie recipes!

Holiday Smoothie - Cranberry Vanilla Orange Chia
Author:
The Sprouted Life
Ingredients
1 heaping cup of fresh cranberries (frozen work also)
1 cup of full fat coconut milk
2 bananas
¾ cup orange juice
1-2 tsp vanilla
2 T. chia seeds
1 cup of ice
Instructions
Throw all your ingredients in your high-powered blender and blend until smooth.
If smoothie is to tart, you can always adjust by adding a little honey.
Enjoy!