I have taken a huge blogging hiatus, but even if I haven't been sharing recipes, it doesn't mean I have stopped creating them and now I have a bunch of items to share!
Here is the main reason I have taken such a long break…meet Callen. Our 3rd boy was born in the middle of the summer.  Because I suffered post-partum anxiety after the birth of our first two sons, I decided this time around to clear extra stuff off my plate so that I could spend some extra time, just bonding and enjoying life with three little boys. Here is Callen a few weeks ago on his 6 month birthday.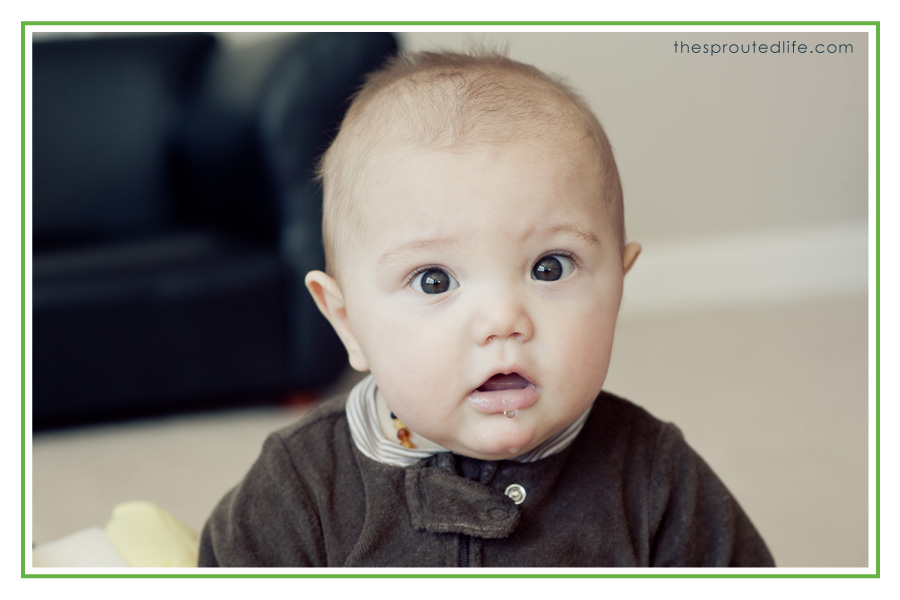 One thing that has definitely changed with the addition of another child and schedules that are becoming more full, is that I am trying to find ways to simplify dinner, but still keep them packed full of nutrients.  A while back, we had dinner with our old neighbors and they introduced us to one of their quick go-to meals.  At first they almost apologized for the simpleness, but we absolutely loved it.  It's nothing ground-breaking, but it's quick, it's full of good fat and is another way to get my kids to eat cabbage.
Basically, we lightly cook shredded cabbage (with 1-2 TBSP of coconut oil, salt & pepper) on medium heat for about 10 minutes (we like ours to still be a little crunchy). And then we top it with a grilled grass-fed burger and 2 eggs.  half of us eat the eggs over easy and the others prefer eggs over hard.  Since we were introduced to this, we have literally had it at least once a week.  For me it's a no-brainer when I am in a hurry because we have a stock of frozen grass-fed burgers in the freezer, always have eggs on hand and almost always have cabbage in our fridge.  For people that don't love red meat, I bet a sausage patty or salmon patty would be an awesome substitute.  Bonus, is that it is a relatively cheap meal that we can feed and fill up growing boys on for less than $10.