2015 for me, is all about simplifying.  So far in January, I have already downsized every closet in our upstairs, organized my pantry and am starting to work on clearing every unused item out of our basement.  I have also, consolidated nutritional supplements and am working hard to actually do a meal plan each week, just to make my life simpler, grocery shopping easier and to waste less.  Meals are also becoming more one pot style and I am loving the reduced cleanup.
This recipe is one that we have made regularly for the past few years.  It is quick, simple and can feed a lot of people and we will often make this when we vacation with friends.  I am not actually sure where the origin of the recipe began at.  I learned it from my sister, but it's one of those recipes, that you can be fairly flexible with and add and omit items easily.
Here is our favorite version of Pork Lettuce Wraps.  You can easily substitute, gound beef, turkey or chicken, but ground pork was on sale the other day at our local Earth Fare and we like these best with pork.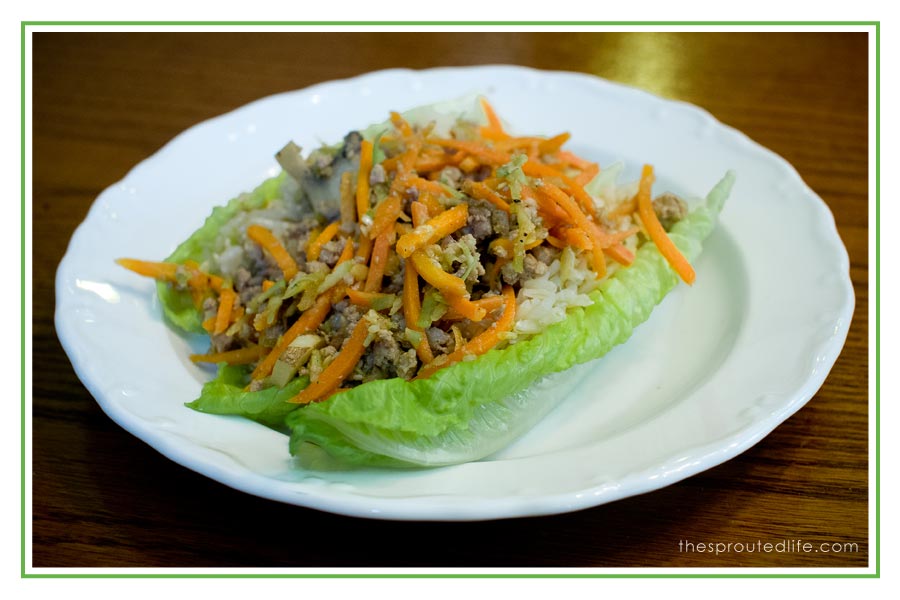 Pork Lettuce Wraps - a Gluten Free, Quick Dinner
Author:
The Sprouted Life
Ingredients
2 lbs of ground pork
2 bags of broccoli slaw (or 4- 6 cups of shredded broccoli, carrots and red cabbage)
16 oz portabella mushrooms
3-4 garlic cloves
2-3 Tbsp. Gluten free soy sauce (we use San-Jay Organic Tamari)
Pepper to taste
2 cups white basmati rice + water or bone broth
Head of Romaine Lettuce
Instructions
Make 2 cups of dried rice in a rice cooker with bone broth or water (can be made on the stove).
Wash and tear off romaine lettuce leaves and set aside.
Brown ground pork with fresh garlic cloves in large skillet.
Add in sliced portabella mushrooms and reduce down for 3-4 minutes over medium heat.
Add in broccoli slaw and cook for an additional 5 minutes, until vegetables are starting to wilt, but remain slightly crunchy.
Stir soy sauce in and cook down for a few more minutes. I always start with about 2 Tablespoons and slowly add more to taste (this really is determined by how salty you want the dish).
Serve meat mixture on top romaine lettuce and white rice.