Welcome to our programs and guides.  Check back regularly as we will continue to add more.
RESTORE YOUR GUT & THRIVE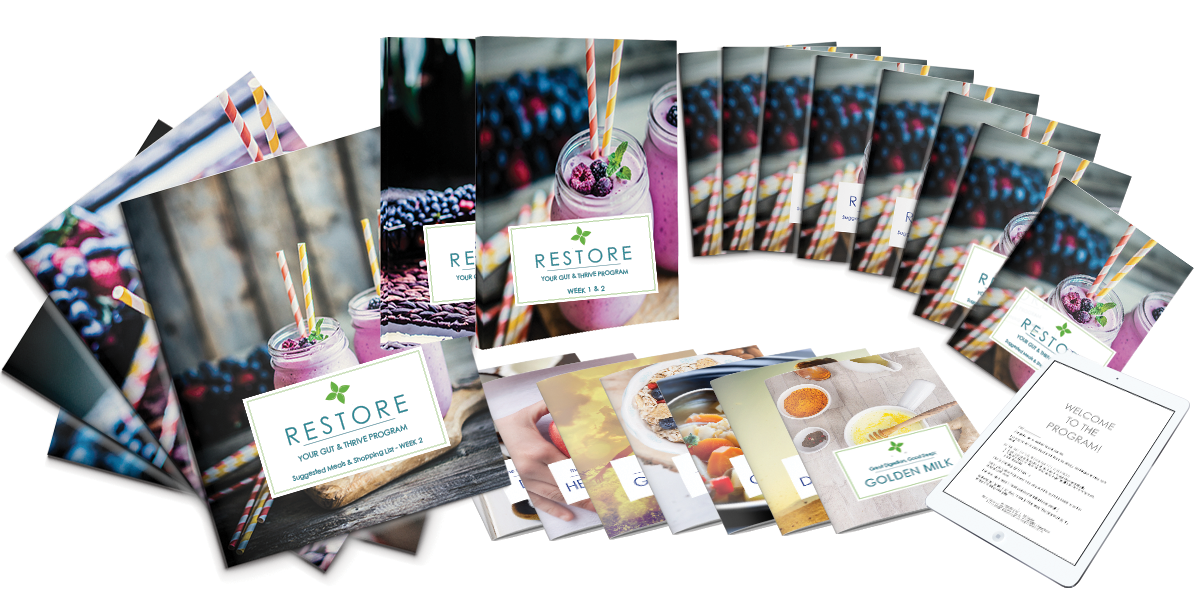 IT'S TIME TO GET YOUR ENERGY, YOUR GUT, AND YOUR LIFE BACK!
8-Week Program that includes full program material and recipe ideas, released every other week and 4 (40-minute) private coaching sessions scheduled at your convenience throughout the 8 weeks.
4 – Bi-weekly, jam-packed eBooks overflowing with every piece of information you need to get the results your body craves—think of it as the ultimate go-to resource guide for your gut!

A Recipe Guide packed with delicious food and drink recipes to keep you nourished, satisfied and toxin-free!
Email support from yours truly—I'm here to make sure you succeed!
Handouts with simple reminders for your gut health journey

A Food Diary so that you can reflect on how your meals make you feel and unleash your maximum potential!
glow from the inside out!
21 DAY CLEAN EATING PROGRAM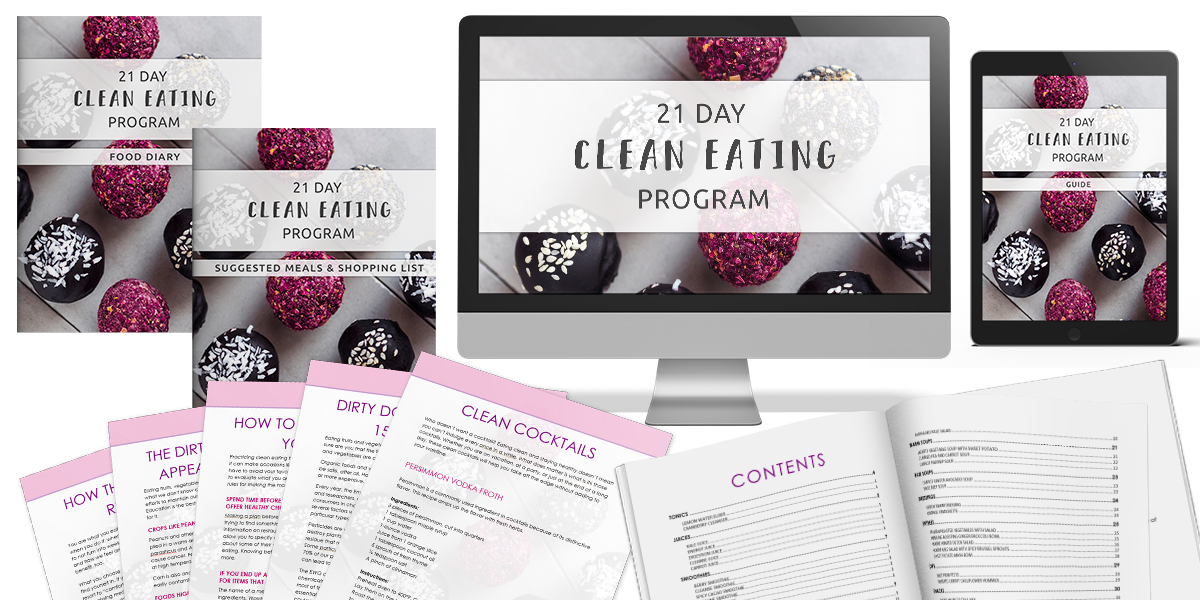 EATING CLEAN IS A WAY OF LIFE!
21 Day Program that includes full program material and recipe ideas and 1 (75-minute) private jumpstart coaching sessions scheduled at your convenience throughout the 21 days.
A rocking 21 Day Clean Eating Guide

A no hassle recipe guide: packed with over 30 scrumptious recipes that will improve digestion, decrease inflammation, and keep you feeling satisfied.
Suggested meals: To help you stay on track. I want you to be super successful.
A suggested list to make trips to the supermarket super simple.
Food diary: this amazing tool will help you keep track of how you are feeling physically, mentally, and emotionally throughout the program
eat less from a box and more from the earth.
FREQUENTLY ASKED QUESTIONS
I DON'T EAT GLUTEN OR DAIRY. ARE ANY OF THESE PROGRAMS RIGHT FOR ME?
None of the recipes have gluten. We do talk about cultured foods such as Kefir but also give options for those who cannot tolerate dairy. 
CAN I STILL WORKOUT ON THESE PROGRAMS?
Please workout during the program! If you feel tired or have low energy, exercising restores both strength and energy. During this program, you will be eating protein and drinking plenty of liquids, so if you're already exercising, there's no reason to stop! It is important to remember that whenever you change the foods you eat your body changes as well. Please consult with your doctor if you have any specific concerns about your health or before beginning any new workouts.
DO I HAVE TO TAKE SUPPLEMENTS, PILLS, OR POWDERS?
Not any of my programs! These programs are based on nourishing your body with whole foods.  We will talk about the benefits of probiotics and provide some research on other commonly used supplements, but this is not a program that prescribes supplements. As a health coach, I do not prescribe nor make any changes to client's supplement routines. Please consult with your doctor regarding any supplements and do not make any changes to your current medications without consulting your doctor. 
I HAVE A KNOWN MEDICAL CONDITION. IS THIS STILL SAFE FOR ME?
While these programs and guides are based on eating only whole foods and learning what works best for your own body, it is still advised that you consult your physician before beginning this or any program.
PROGRAM & GUIDE DISCLAIMERS
It is important to consult your physician before beginning any new eating or exercise program. This is a clean eating program designed to teach you the difference between foods that inflame you and foods that fuel you. These statements have not been evaluated by the Food and Drug Administration. This is not intended to diagnose, treat, cure, or prevent any disease.
I am not a medical doctor or registered dietician. I not dispense medical advice or prescriptions.  This content is not intended to diagnose or treat any diseases.  It is intended to be provided for informational, educational, and self-empowerment purposes ONLY.  Please consult with your doctor or wellness team if you have any questions regarding this whole foods program, and then make your own well-informed decisions based upon what is best for your unique genetics, culture, conditions, and stage of life.
As with most digital and print offerings, from audio and eBook retailers:  There are no refunds on programs or products that can be downloaded, viewed, copied, or stored in an electronic format.  This is industry standard.  Therefore, this program is non-refundable, so please read the full program details before purchasing any program or product.
a healthy you.
I BELIEVE THAT THE GREATEST GIFT YOU CAN GIVE YOUR FAMILY AND THE WORLD IS A HEALTHY YOU.
not restrictions.
CREATE HEALTHY HABITS NOT RESTRICTIONS.
MEDICAL DISCLAIMER
A Functional Medicine Health Coach is not a doctor or a licensed medical practitioner and does not diagnose conditions, prescribe medications or recommend higher or lower doses of your current medications. Consult Your Physician or Health Care Provider. The Sprouted Life claims no responsibility to any person or entity for any liability, loss, or damage caused or alleged to be caused directly or indirectly as a result of the use, application, or interpretation of the information presented, suggested or recommended here at The Sprouted Life.
AFFILIATE DISCLOSURE
Some of the links on The Sprouted Life are affiliate links. This means that if you click on the link and buy certain items, we will receive a small commission from the company. The price is the same for you, though! Thank you for your support. If we post an affiliate link to a product, it is something that we personally use, support and/or would recommend, even without an affiliate link.  We sometimes review items that are sent to us for free. All of The Sprouted Life's opinions regarding them are our own. We only endorse products that are in alignment with our ideals and that we believe would be of value to our readers.