i have been a horrible blogger.  between a much needed mini-vacation to the beach/dunes in michigan, shooting weddings, a large pile of design work, canning a ton of peaches (in the 95 degree heat), house & land closings and now packing for our first move to temporary housing…i have been a little busy.  never fear, my husband and i have still been cooking a ton and trying to keep healthy, nourishing meals in front of our family during this busy season of our lives.  so, my little blog has suffered a bit, but i do have a bunch of recipes to share (i just need to find the time to share them).
here is a family favorite side dish.  our csa share last week was just screaming for me to make ratatouille from it.  i had these amazing onions, a huge bunch of fresh basil, a few varieties of japanese eggplant, zucchini and yellow squash!  i know this is nowhere near how traditional french ratatouille is made, but this is easy, quick and still has amazing flavor! the only main items used in this dish that were not fresh from our csa were the crushed tomatoes & garlic cloves.  that makes me happy!
the picture is right before the ratatouille went into the oven.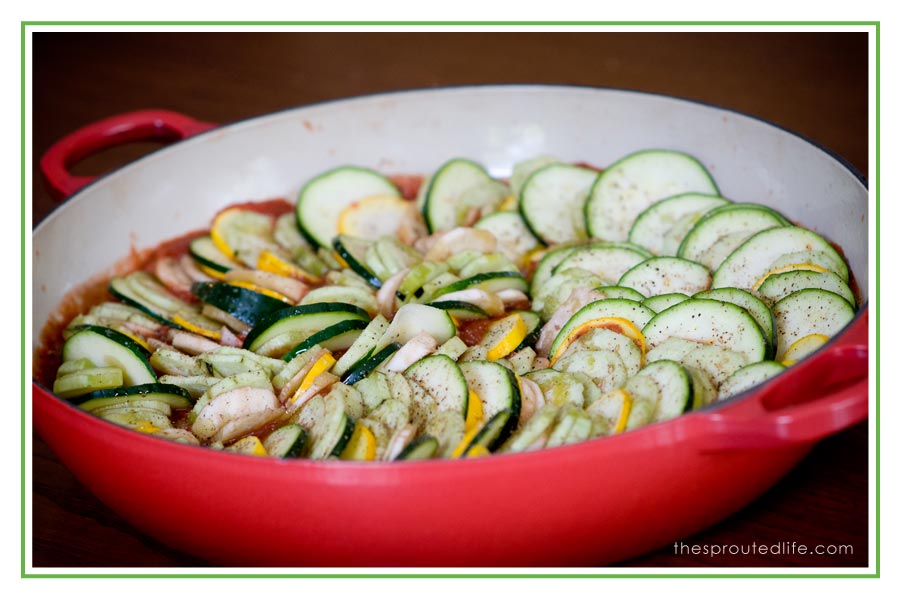 side note: a lot of ratatouille recipes include red or yellow bell peppers in them.  i think that they would make a wonderful addition.  i just didn't have any.
simple summer ratatouille
Author:
the sprouted life
simple side dish, with a wonderful array of flavors!
Ingredients
2 japanese eggplants (i peeled mine)
2 medium zucchini
2 medium yellow squash
1 small yellow onion
1 can of organic crushed tomatoes
3 cloves of garlic
handful of basil
2 Tbsp. olive oil
sea salt to taste
ground black pepper to taste
parchment paper
Instructions
peel eggplant if you want (this is not necessary) and then trim ends off of the eggplant, zucchini and yellow squash
slice the vegetables thinly, using a mandolin or knife (mine were between 1/16th and ⅛th in thickness)
set vegetables aside
in a food processor or vita-mix puree the canned tomatoes, basil and garlic
layer a thin layer of sliced onions on the bottom of a baking dish
pour tomato mixture on top of the onions and spread evenly
starting on the outside, begin layering the eggplant, zucchini & yellow squash into the tomato sauce all the way around the pan
drizzle with olive oil
sprinkle with sea salt & ground black pepper
cut parchment paper to fit baking dish
cover loosely with parchment paper and bake at 375 for approx. 1 hour
vegetables should be fully cooked, but not mushy.
items used in this recipe:
shared on: food renegade